홈
About Aeropeace
Company Overview
Company Overview
A worldwide leader in the field of helicopter maintenance, repair, and operating [operating](MRO) field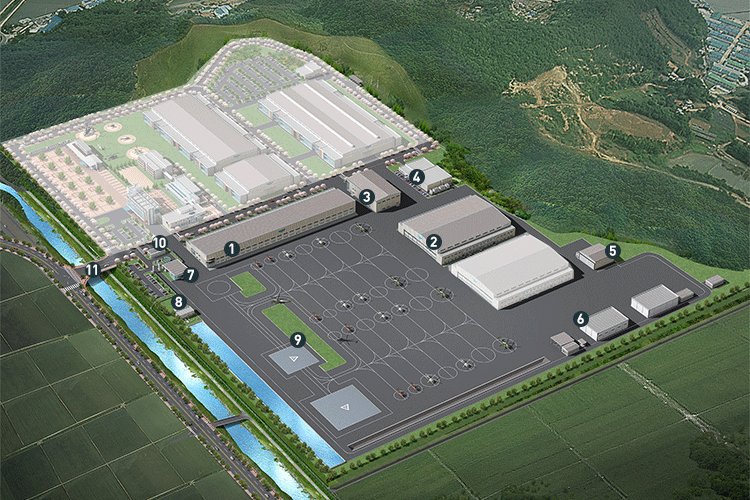 1 Operation Hanger
2 Heavy Maintenance & Modification Hanger
3 Parts supply center
4 Utility Building
5 Painting Shop
6 Flammable Material Storage & Fueling Building
7 Passenger Lounge
8 Waste Water Treatment Plant
9 Helipad
10 Security office
11 Entry bridge
Operation Hangar

180m in length, 39m in width, a maximum height of 15.6m, a total floor area of 10,084 m2 helicopter storage and maintenance facilities
Possesses 16 9m by 9m offices on each of the 1st and 2nd floors, a warehouse and far infrared ray heating, fire monitoring and extinguishing system, an overhead crane, and aircraft interior cleaning facilities.
Heavy Maintenance & Modification Hangar

56m in length, 90m un width, a total floor area 8,998m2 helicopter storage and heavy maintenance facilities
Includes a process support shops including sheet metal working, machining, welding, non-destructive inspection, and cleaning and so on, and many component repair and overhaul shops such ad power trains, hydro-pneumatics, avionics, batteries, survival equipment and so on.
Parts supply center

Aircraft parts distribution depots 30m in length, and 45m in width, and 16m in height, with a total floor area of 1,934m2
Includes an additional temperature and humidity chamber, a cool chamber, and a place for loading and unloading.
Utility Building

Possesses a central control room (electric power supply, illumination, facilities control, CCTV, access control, high speed LAN system and so on) a machine room, an electrical room(5,500KW), and an underground common-use
Painting Shop

25m in length, 22m in width, 7.2m in height, a total floor area of 760m2 of helicopter components and completed aircraft painting facilities The adoption of the only downward ventilation system in Korea, the maintaining of indoor temperature and humidity, and completely equipped with drying, heat treatment and VOC prevention facilities
Flammable Material Storage & Fueling Building

Flammable material storage warehouse safely keeps flammable material by isolation, and fueling station is completely equipped with facilities to store and supply high-quality aircraft fuel.
Passenger Lounge

Safety education before boarding, inclufes a briefing room exclusive to crew members Includes a service kitchen space that light food and snack/beverage is provided, and VIP waiting room.
Waste Water Treatment Plant

Facilities to purify sewage and factory wastes generated from Kimpo Aerospace Industrial Complex
Helipad & Ramp Area

Includes a class "D" helipad

About 44,000m2 of ramp area exclusive to helicopter, and installation of ground earth and mooring point for simultaneous mooring of 26 large helicopters Completely equipped with outdoor helicopter washing place and compass rose of 28m diameter which is international standard